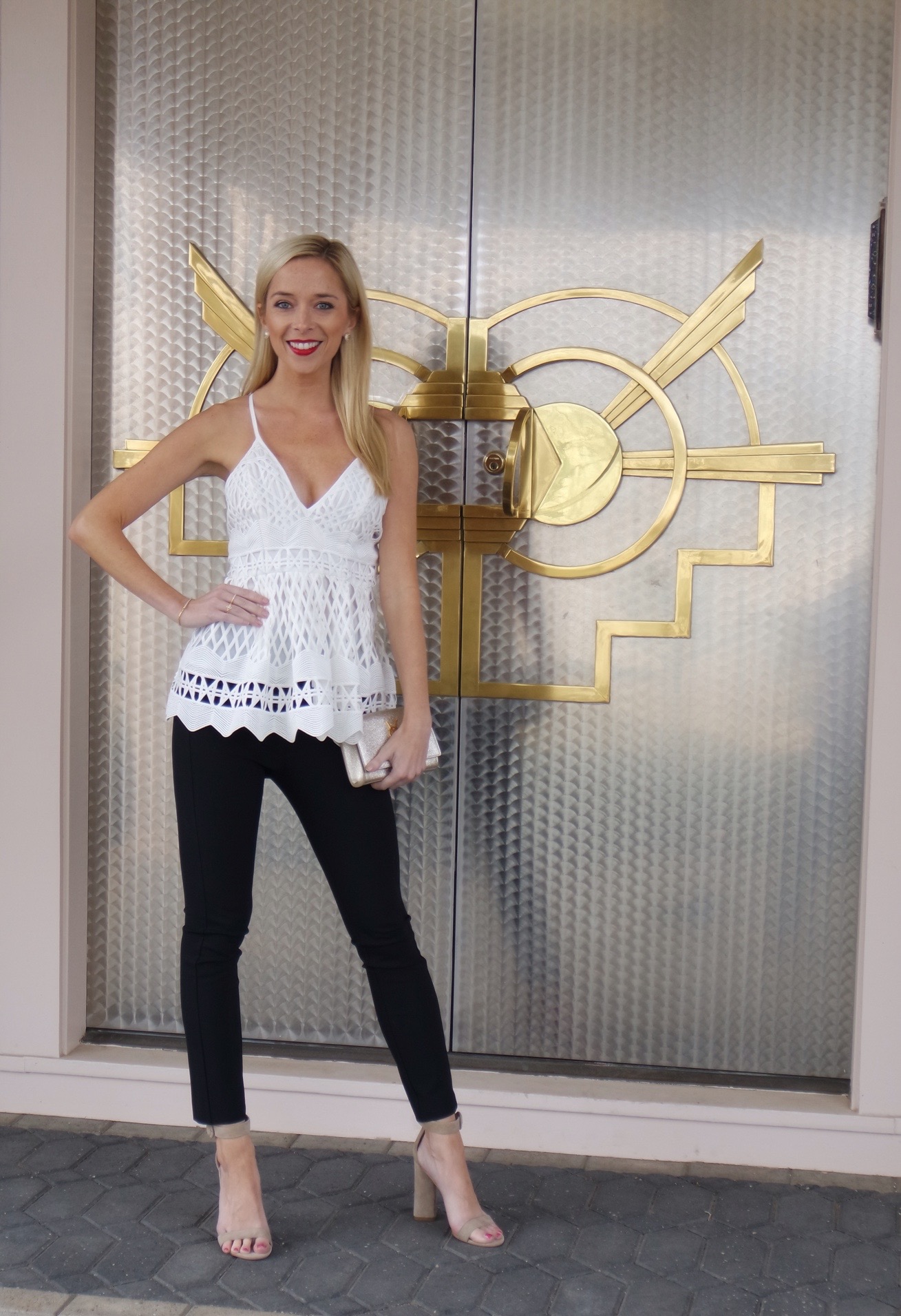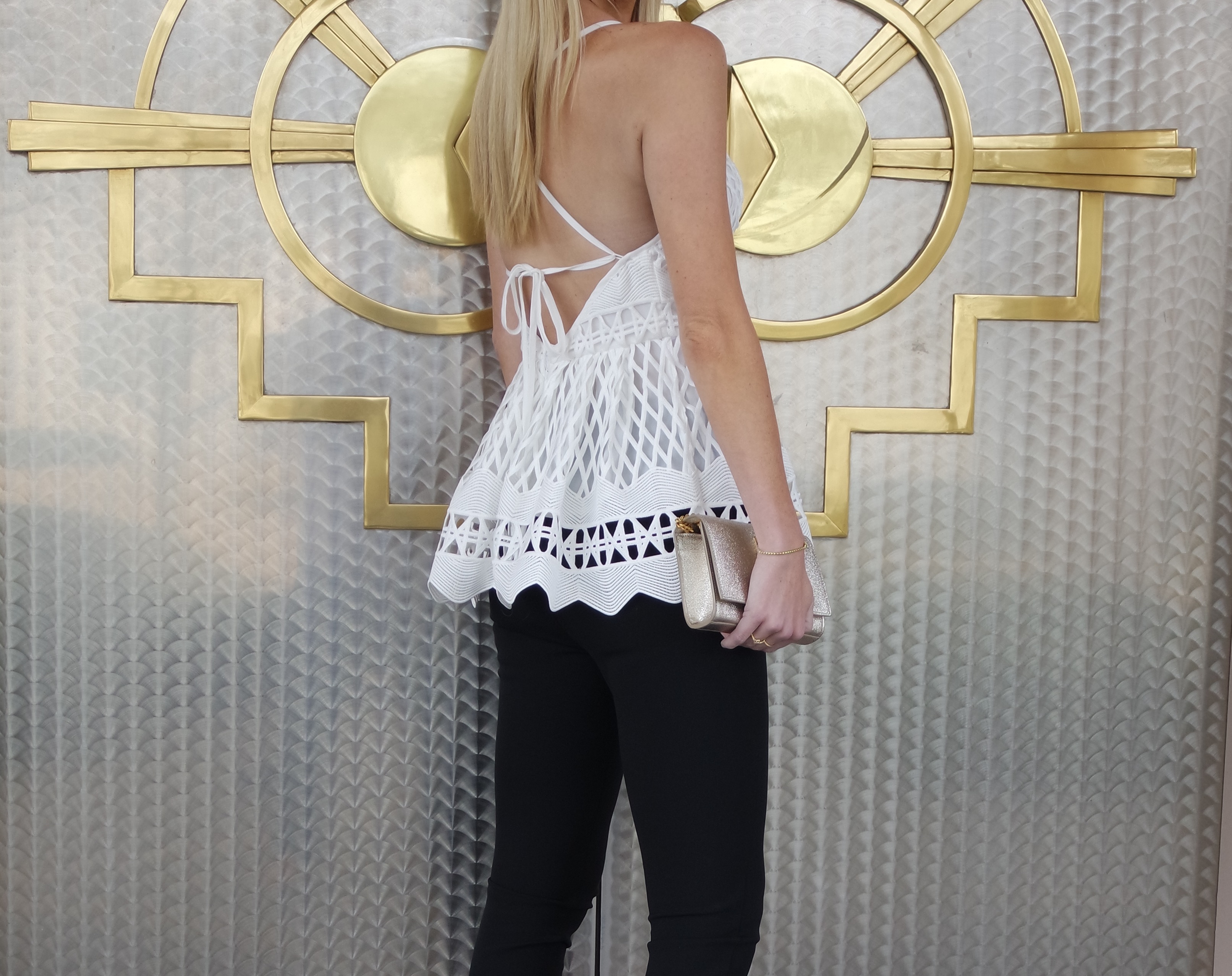 Outfit Details:
|| Top: Kendall & Kylie || Pants: Rag and Bone || Clutch: YSL (Duplicate here) || Shoes: Kendall & Kylie ||
I love the crochet-detailing on this white halter top from Kendall & Kylie. The black Rag and Bone pants are very flattering and keep the look playful yet sexy.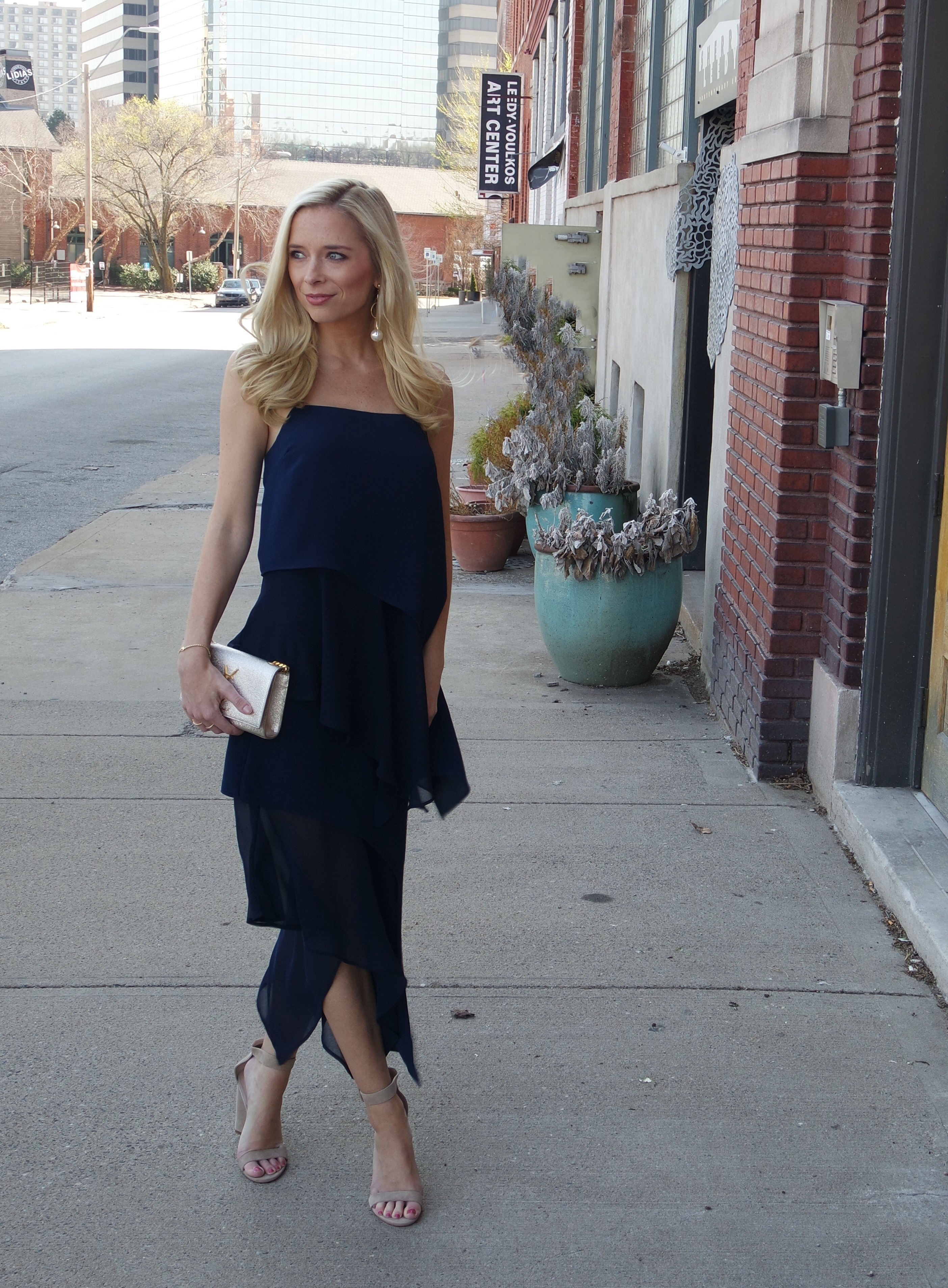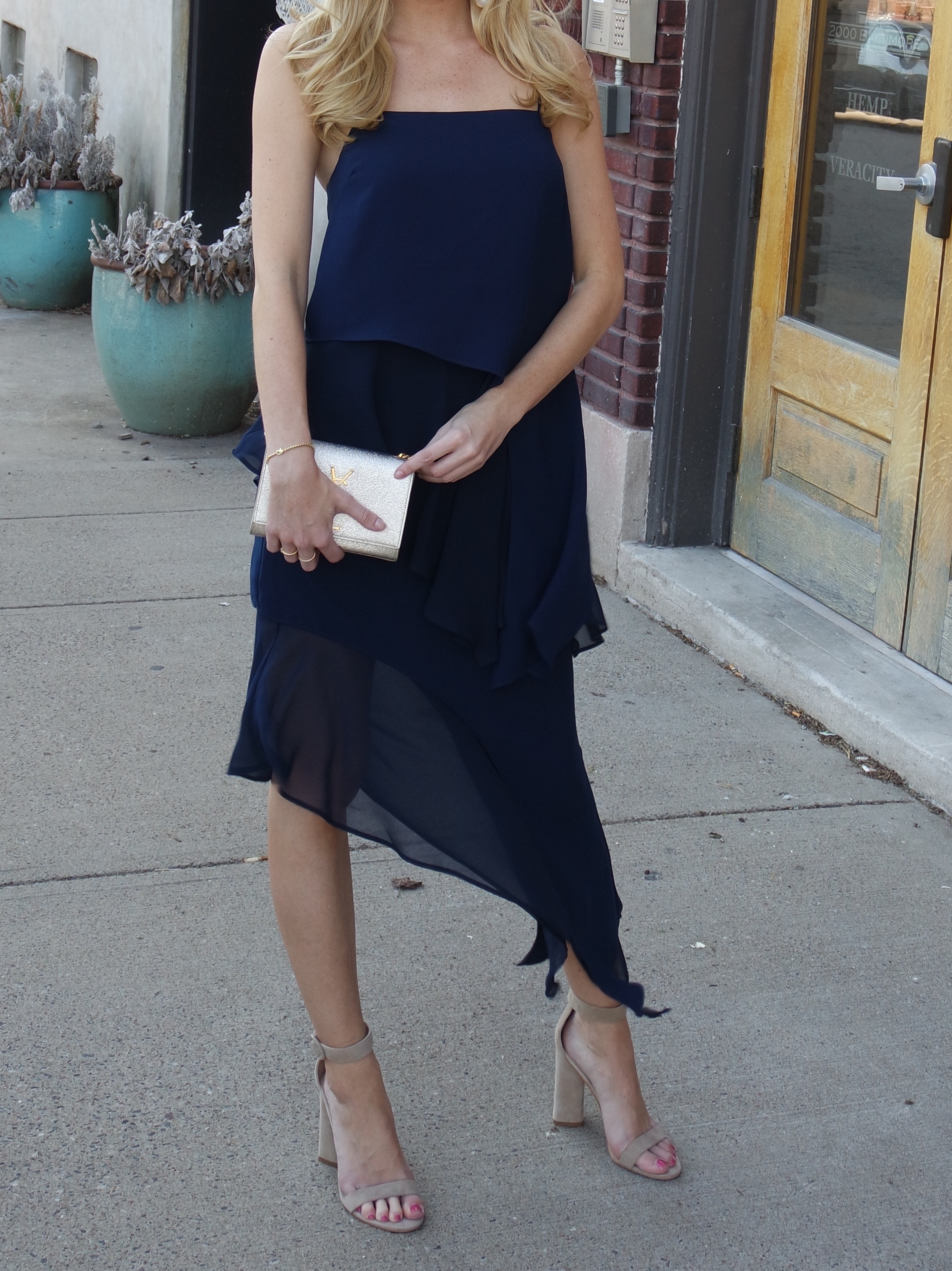 || Top: C/MEO || Skirt: C/MEO || Earrings: Zinzii ||
This navy, flowing two-piece from C/MEO Collective is another gorgeous date night look. It is also perfect for warm, vacation nights and I think the A-line hem on both pieces make it such a unique look.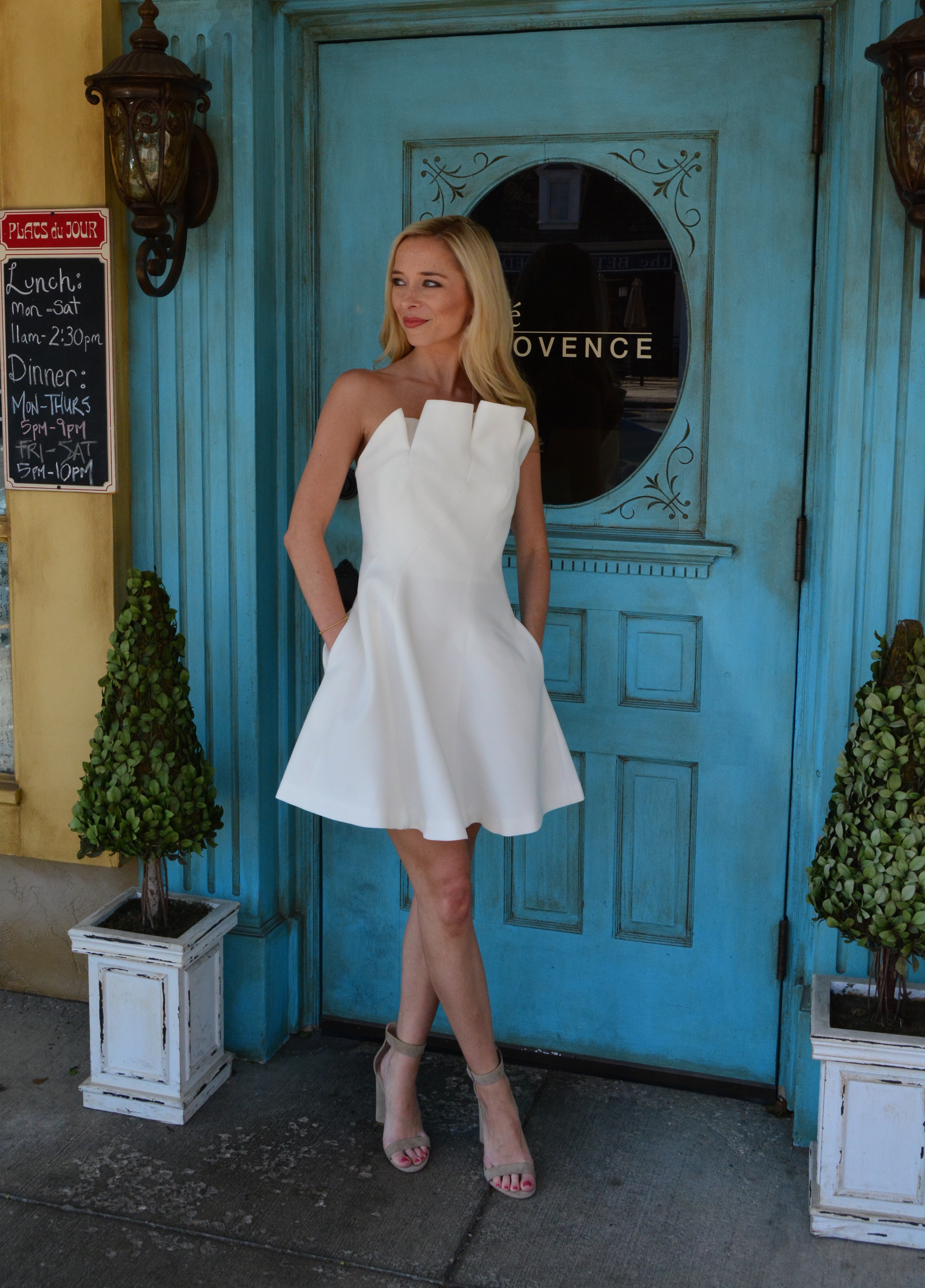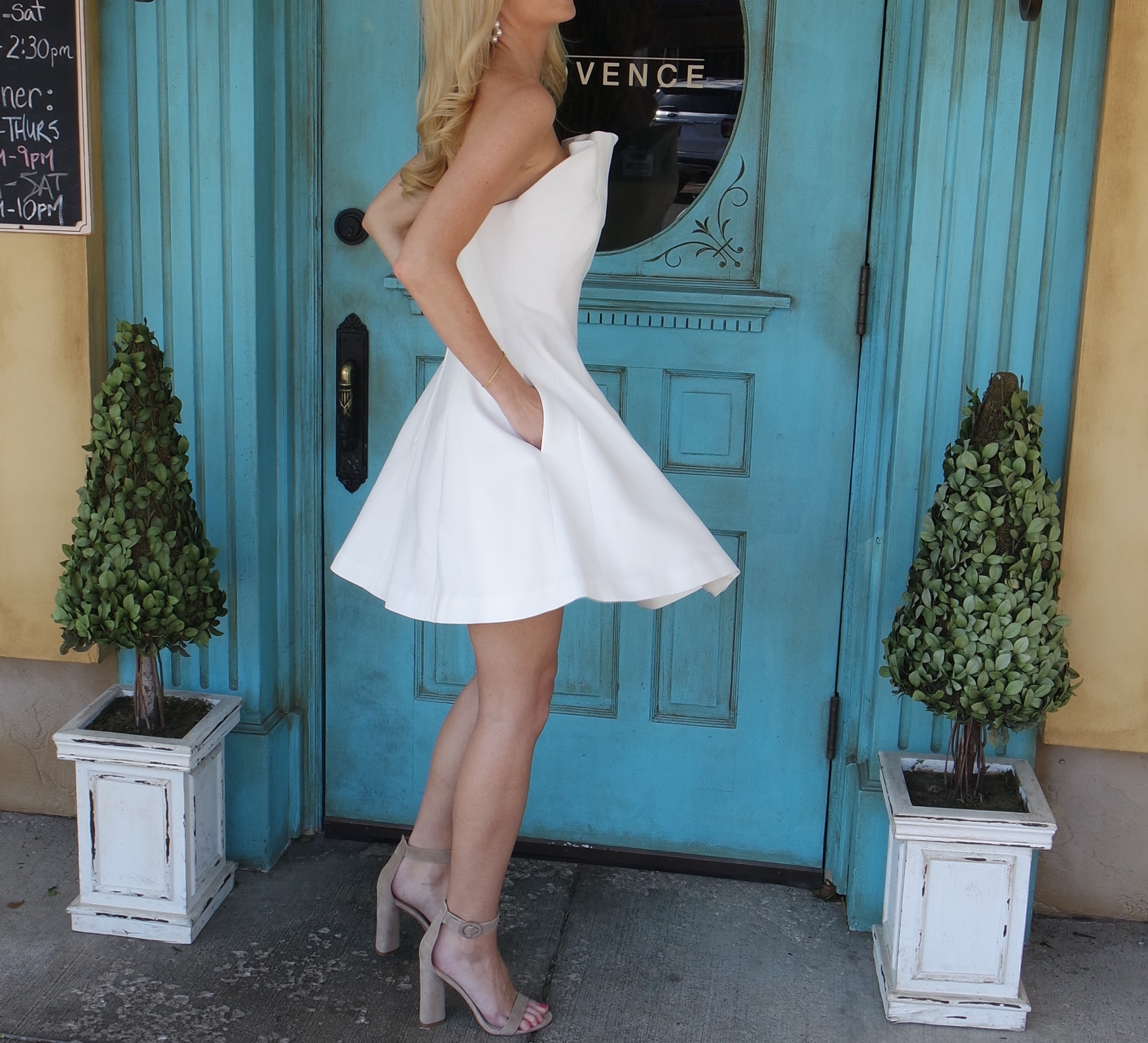 || Dress: Keepsake ||  Earrings: Baublebar ||
The inverted pleats on this white dress by Keepsake give the otherwise feminine look a flirty edge. I love that the dress has pockets and the boned bodice slims the waist.
Each of these looks are unique and would make a perfect pick for date night. Spring is definitely a time for budding relationships and, speaking of which,  I want to shift the conversation away from fashion and focus on the relationship we have with ourselves.
I often find that many women (such as myself) spend too much time focusing on their imperfections and insecurities – particularly when starting a new relationship. I can't tell you how many times I've compared myself to other girls; wishing for their hair, skin or body types. Sometimes, I've even let my own insecurities get in the way of my relationships with others so much so that it even ruins them. The reason I ruined those relationships is simple: I didn't love myself.
Last night, I watched the movie Good Will Hunting  for the first time in a while and I had forgotten what great messages the film has to offer. The film is about a psychologist helping a troubled yet brilliant young man fix his relationship with himself; thus, breaking down the walls he builds with others.
Robin Williams plays the psychologist in the movie and in one scene he says, "You're not perfect, sport, and let me save you the suspense: this girl you've met, she's not perfect either. But the question is whether or not you're perfect for each other."
The young man is discouraged from pursuing a relationship because he is afraid the woman will find all his imperfections. Williams goes onto encourage him saying, "People call those imperfections, but no, that's the good stuff," and he couldn't be more accurate.
I have learned I needed to change one of the most important relationships in my life: the one I have with myself. We live in a world dominated by social media and maintaining your self-worth can be challenging.  I find it really helps to take time out of every day to spend solely on myself: whether that be taking the dog for a walk, reading a good book, laying on the sundeck or even just painting my nails. I like doing something each day that makes me feel good about myself. Never try to change who you are for someone else.
A key factor to our happiness is to not only accept ourselves for who we are but love ourselves for who we are, because it is only when we love ourselves that we can truly allow others to love us.
My mother recently told me, "If you change yourself to focus on the positives, you'll be amazed at how much your life and relationships will change in return," and she was exactly right.