I am excited to finally be sharing one of my favorite rooms in my home with you all. Bedrooms should be everyone's oasis where they can relax at the end of a long day. I'm going to show you how I mixed my favorite colors along with gold accents to create my own oasis.
After college, I lived on my own for three years before moving in with FOUR boys in Los Angeles (yes, you read that right). I love having my own place again so I can decorate it in a way that totally represents my taste…and cleanliness! I have a lot of pieces from my prior apartments that I have mixed with newer selections that represent my current decor tastes.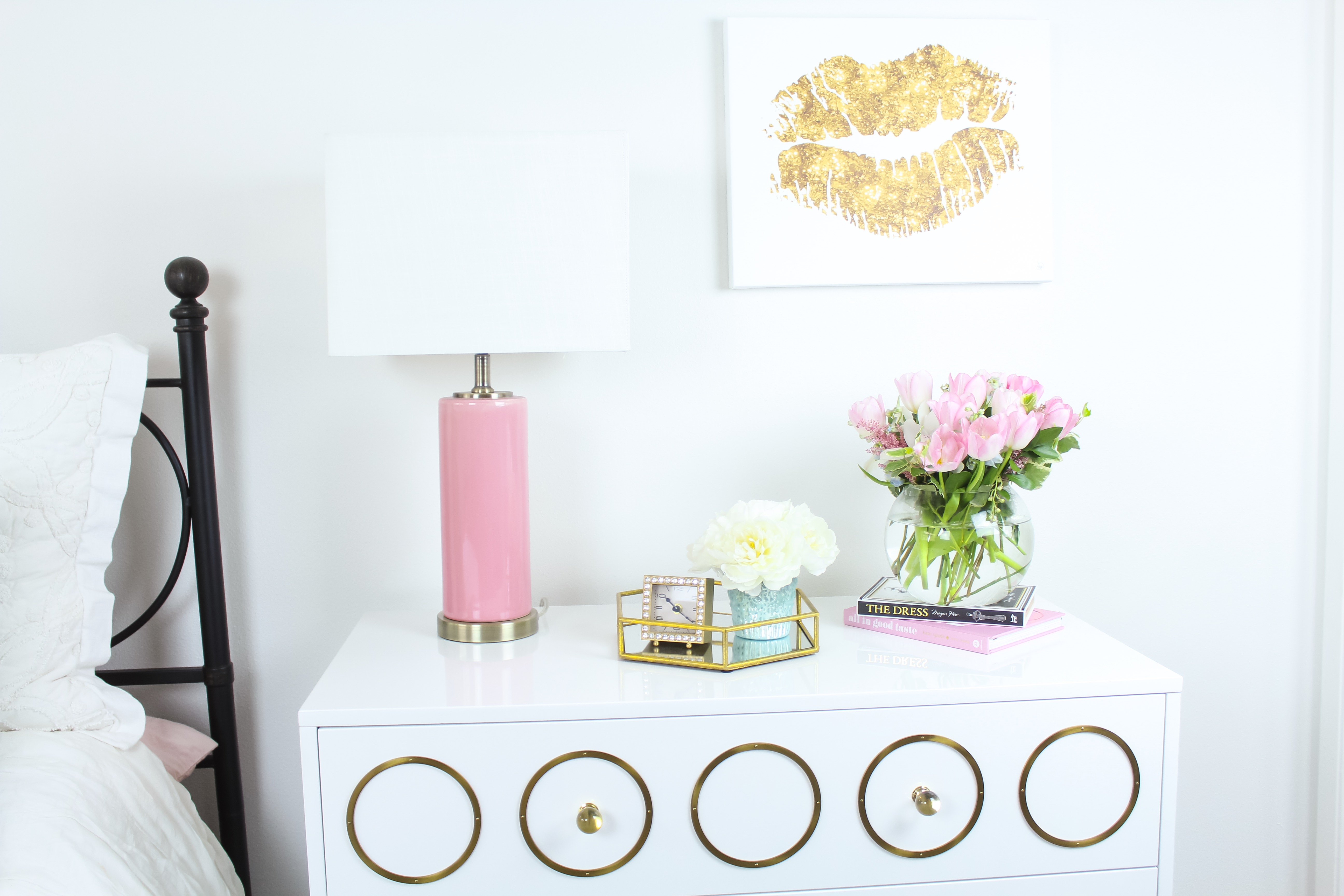 My white comforter is still available at Pottery Barn. The turquoise pillows were custom made but you can find my rose-colored accent pillow at Wayfair. Turquoise was a big theme in my previous apartments but I wanted to add shades of rose as well. My favorite rose-colored piece is this $84 lamp from Wayfair.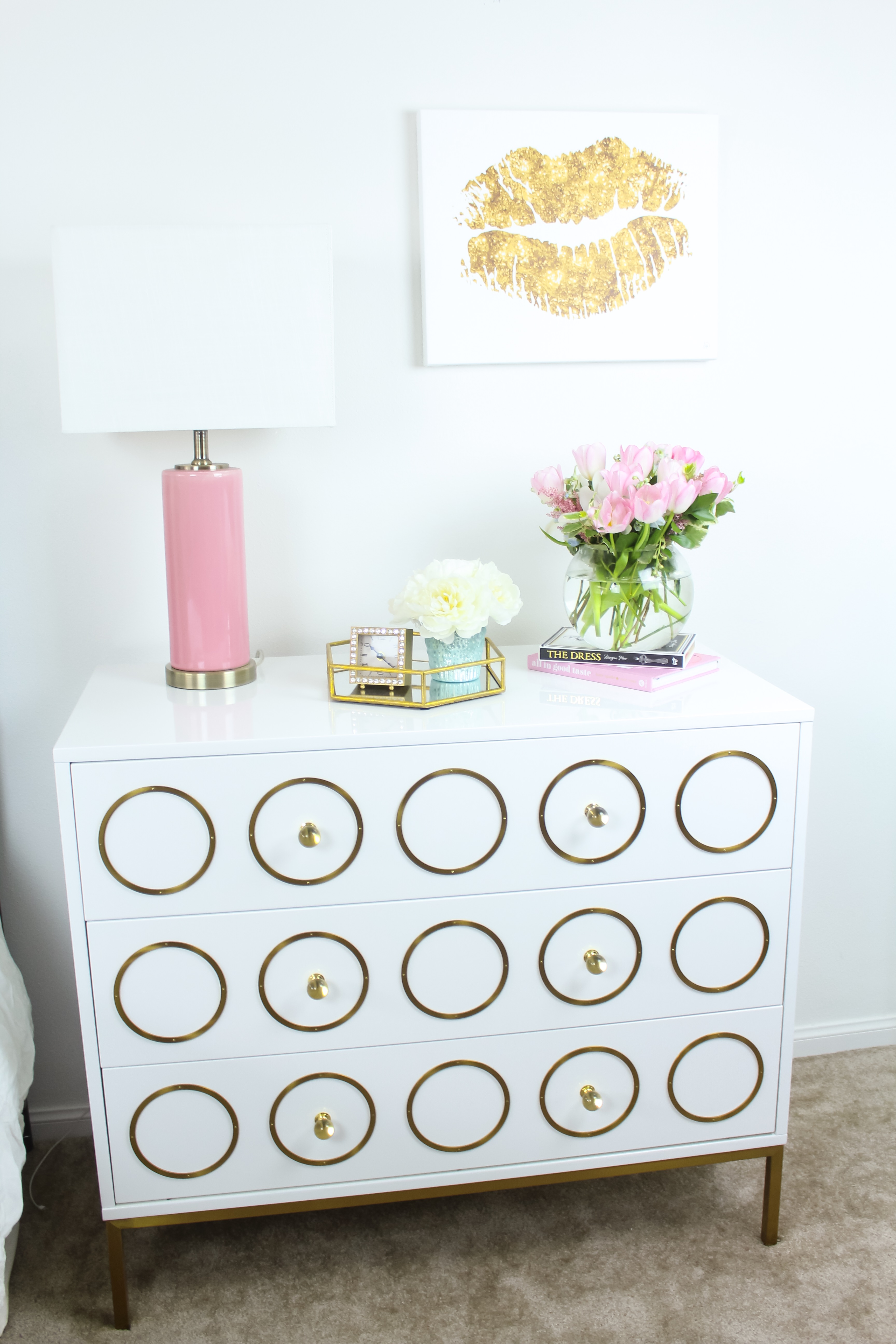 Gold Accents
I am obsessed with this white and gold dresser! It is currently out of stock but I have tagged some amazing duplicates. I found a pair of matching gold-mirrored trays on Amazon for just $50. They make for a great accent for the top of your dresser, coffee table or even shelves. The gold-lips canvas was a perfect accent at just $44 to add even more gold.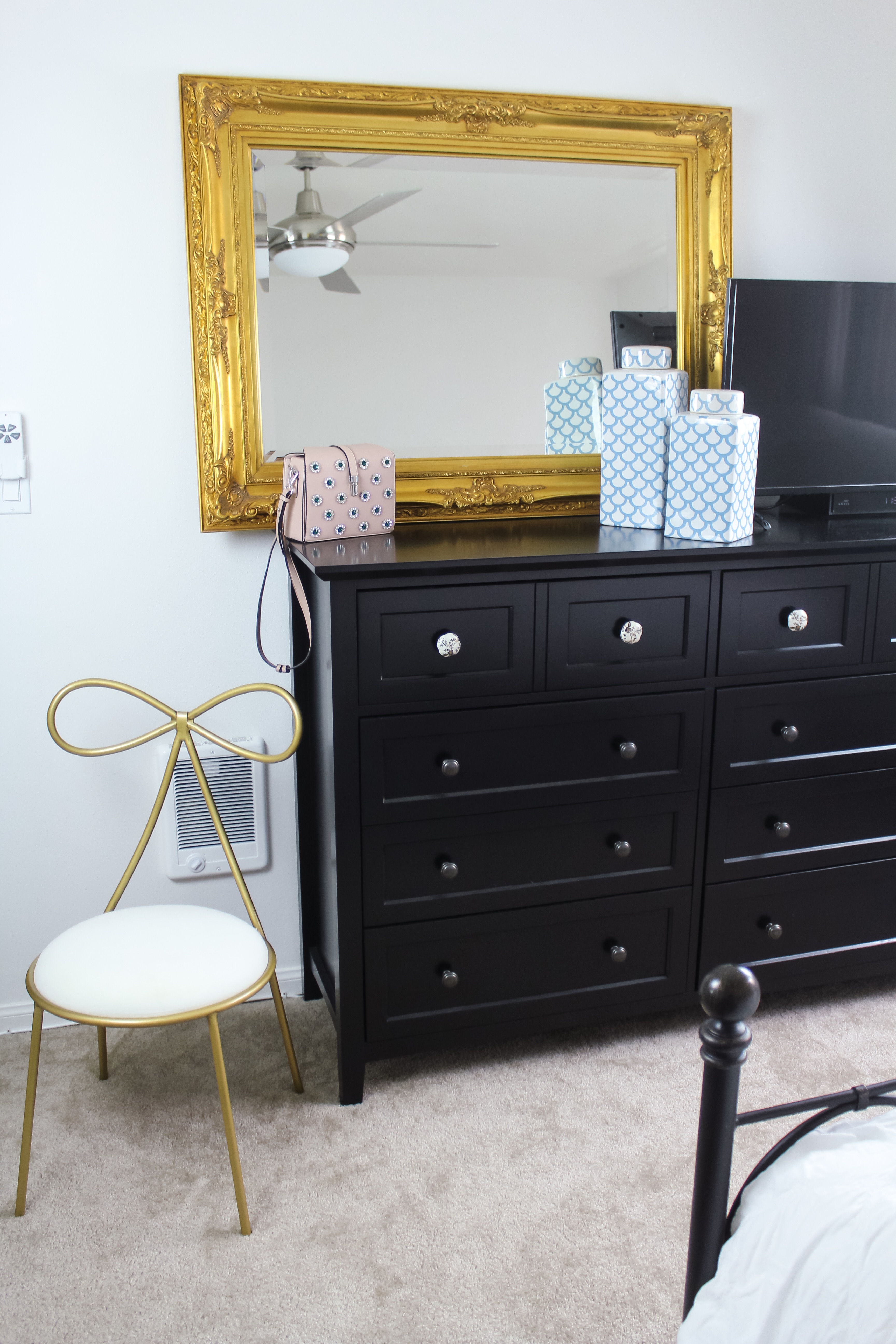 Add Character with Decorative Knobs
Fashion bloggers have a lot of clothes and naturally one dresser wasn't enough! This black dresser from Wayfair  has tons of storage space and also comes in white and grey. I added these gorgeous, hand-painted knobs by Anthropologie to the dresser to give it some character.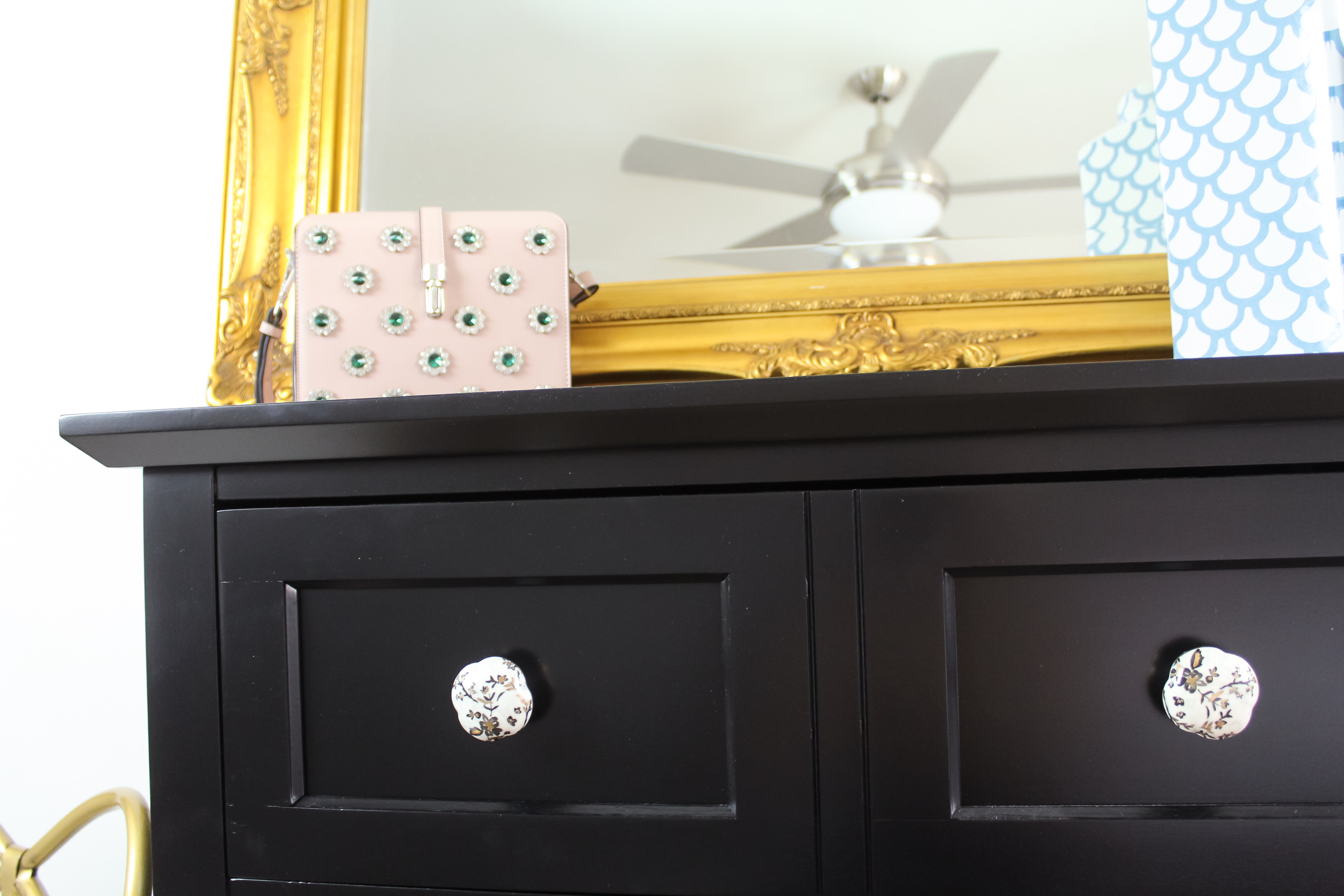 I don't have much space for a big vanity but I found a great piece from Amazon for just $99! The decorative knob was a greaty way to tie it in with the black dresser and I topped it off with a lit make-up mirror from Amazon.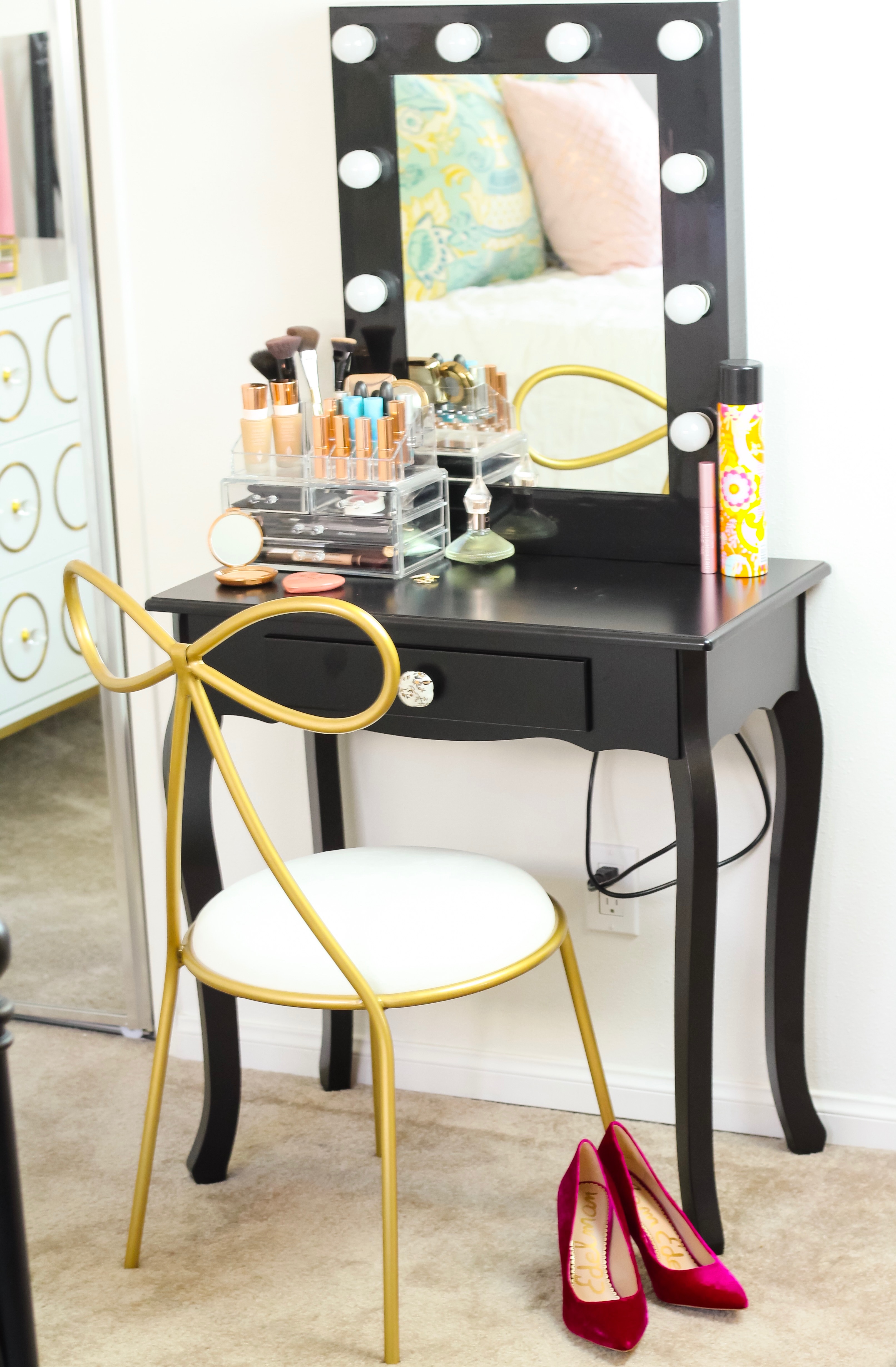 This cute bow-back chair from Pottery Barn Teen made the perfect vanity stool while keeping in line with my gold accents.