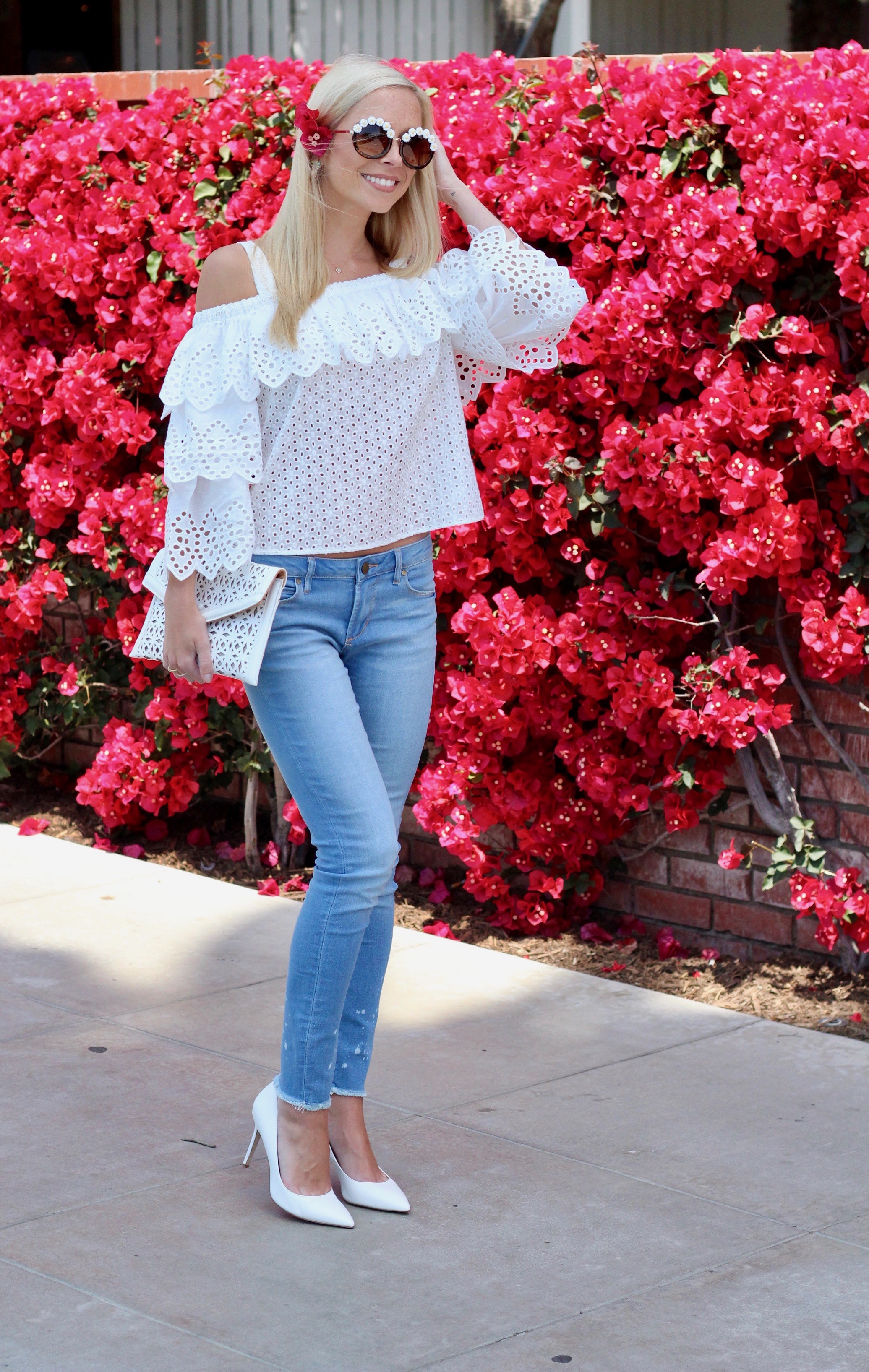 Summer is just around the corner and all I'm wanting to wear is white! For Cinco de Mayo this past weekend, I wore this white, eyelet top with cold shoulder sleeves. Alex and I are trying to break out of our shells by trying new restaurants in LA and Gracias Madre was the perfect spot. If you haven't been to this West Hollywood eatery, you have got to try their tequila mule snowcone. It is amaze. Luckily, I did not spill on this $98 top from Endless Rose because I'm adding it to my list of summer staples.
Endless Rose Eyelet Top | Articles of Society Jeans | Sam Edelman Shoes
Under $50 Jeans
Yes, you read that correctly. My jeans are now on sale for just $38 at Nordstrom! They are extremely soft and I love the raw hem with the little bleach splatters. I'm usually nervous about wearing white shoes – mine always seem to attract dirt – but I couldn't pass these heels up. At just over $100, these pumps are super comfortable and come in fifteen colors!
Treating White Shoes
***Tip: I always treat my leather shoes with this protectant by Synovia. Before wear, spray your shoes, let dry for one hour and spray again. Using this treatment doubles the lifespan of my beloved shoes.
Casino Angeleno
On Saturday night, I traded in my jeans for a long dress to wear for Junior League of Los Angeles' Casino Angeleno event. The annual event is a black tie affair of music, dancing and charity. It was held downtown at Union Station. Alex and I had so much fun with my JLLA friends – I will take any excuse I can to dress up! I hope you all had a wonderful weekend as well. Scroll through the photos for a closer look at how I accessorized my white, eyelet top. I have tagged everything below for your shopping convenience – happy Monday babes!