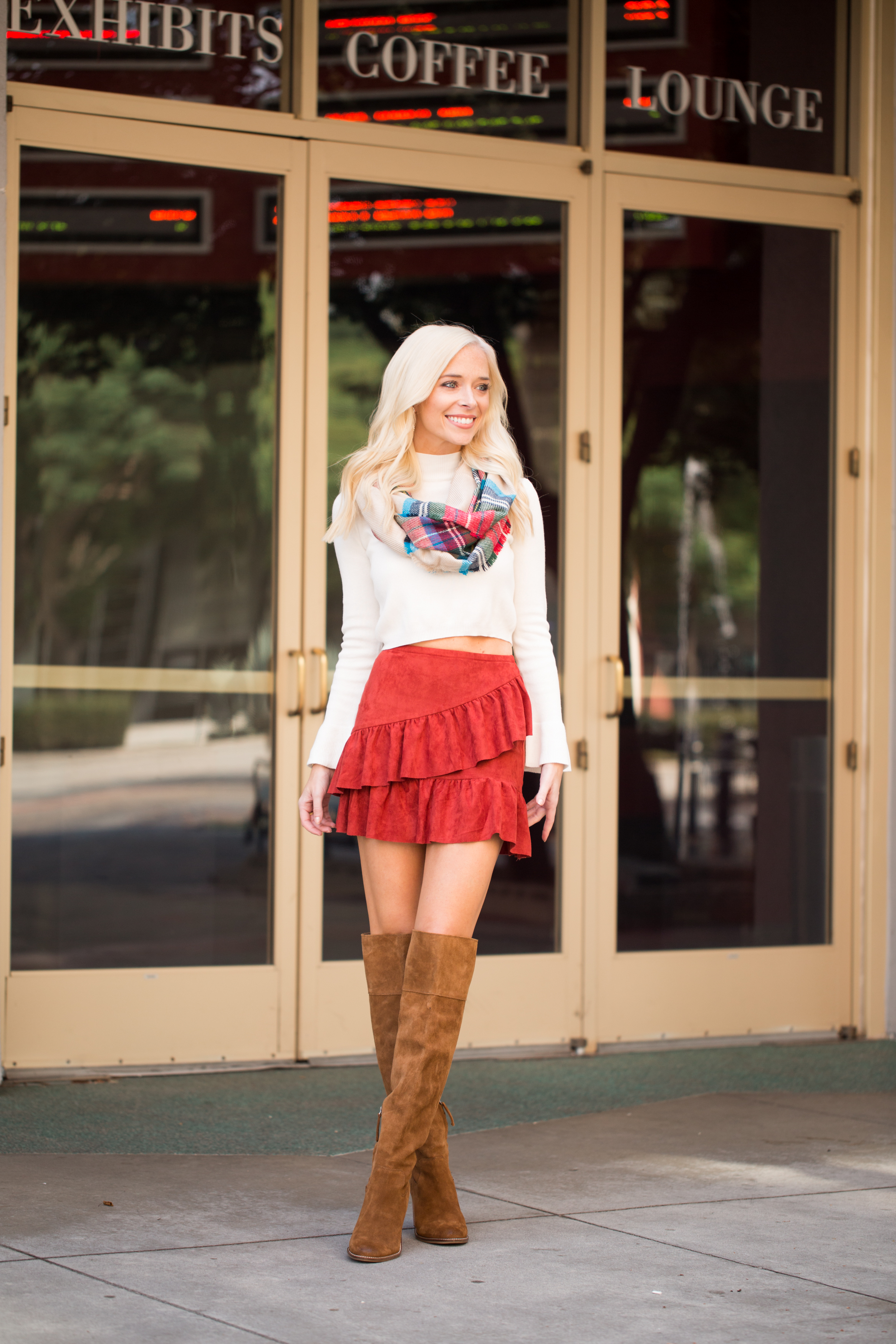 Fall is my absolute favorite season. I love the changing leaves, cooler air and most importantly…the clothes. I'm sharing my favorite fall look today with staple pieces you can wear over and over.
We're having a major heatwave today in Los Angeles and I'm missing the cooler weather we had this weekend. On Friday, I went to listen to jazz music at the Culver Hotel in Culver City. It was so fun ya'll! If you're ever in LA, I definitely recommend visiting this historic Hollywood gem. Outside the hotel, they have a huge Wizard of Oz display (something close to my heart as a Kansas girl) because the movie was filmed at the MGM lot next door. Apparently, all 124 munchkins stayed at the Culver Hotel and they often slept three to a bed!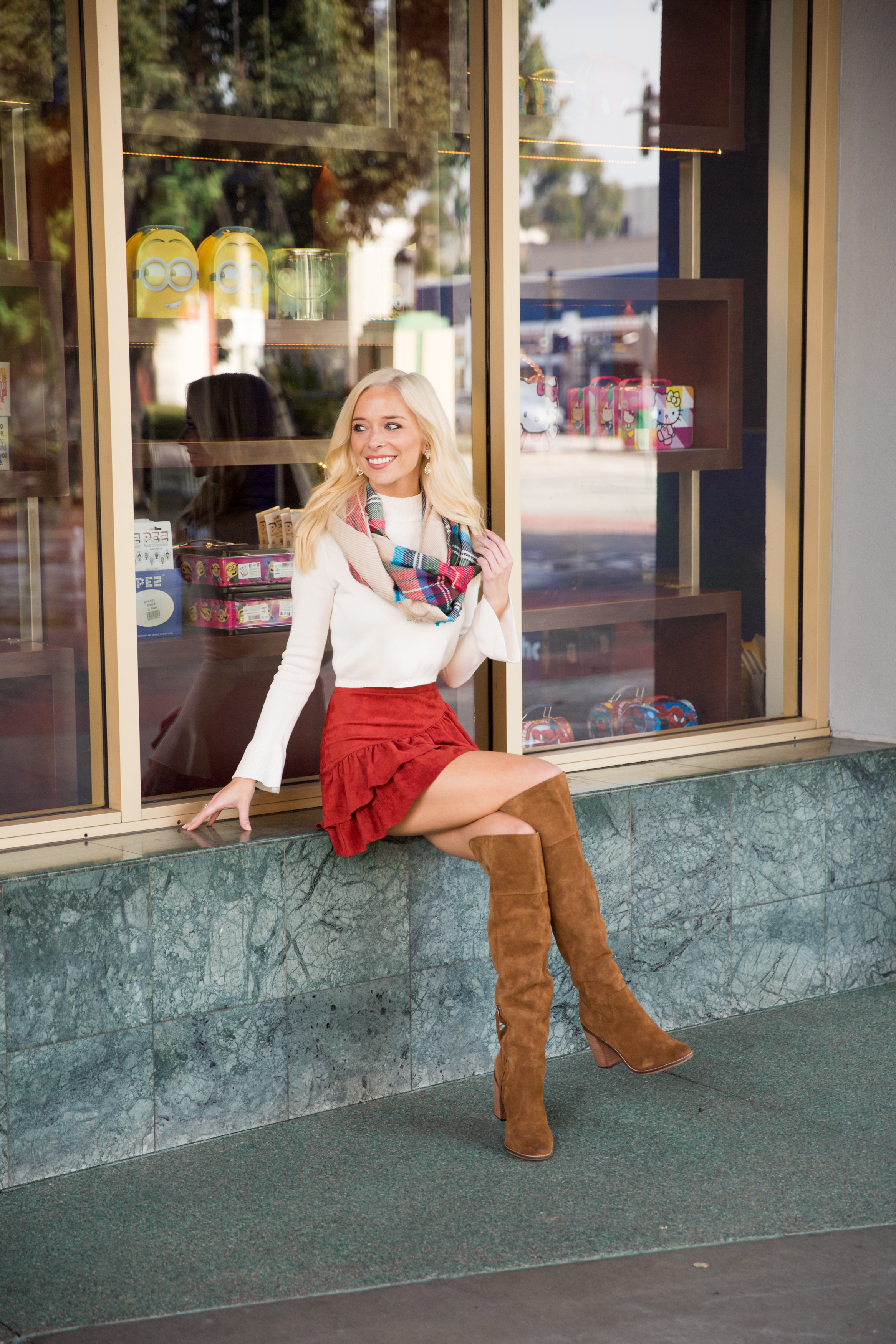 Sweater | Skirt | Scarf | Boots
Anyway, I may not have ruby red slippers but my brown, over the knee boots can be worn for every occasion. I got these Steve Madden boots last year and I'm so happy they're back in stock! They run true to size and are more of a chestnut brown.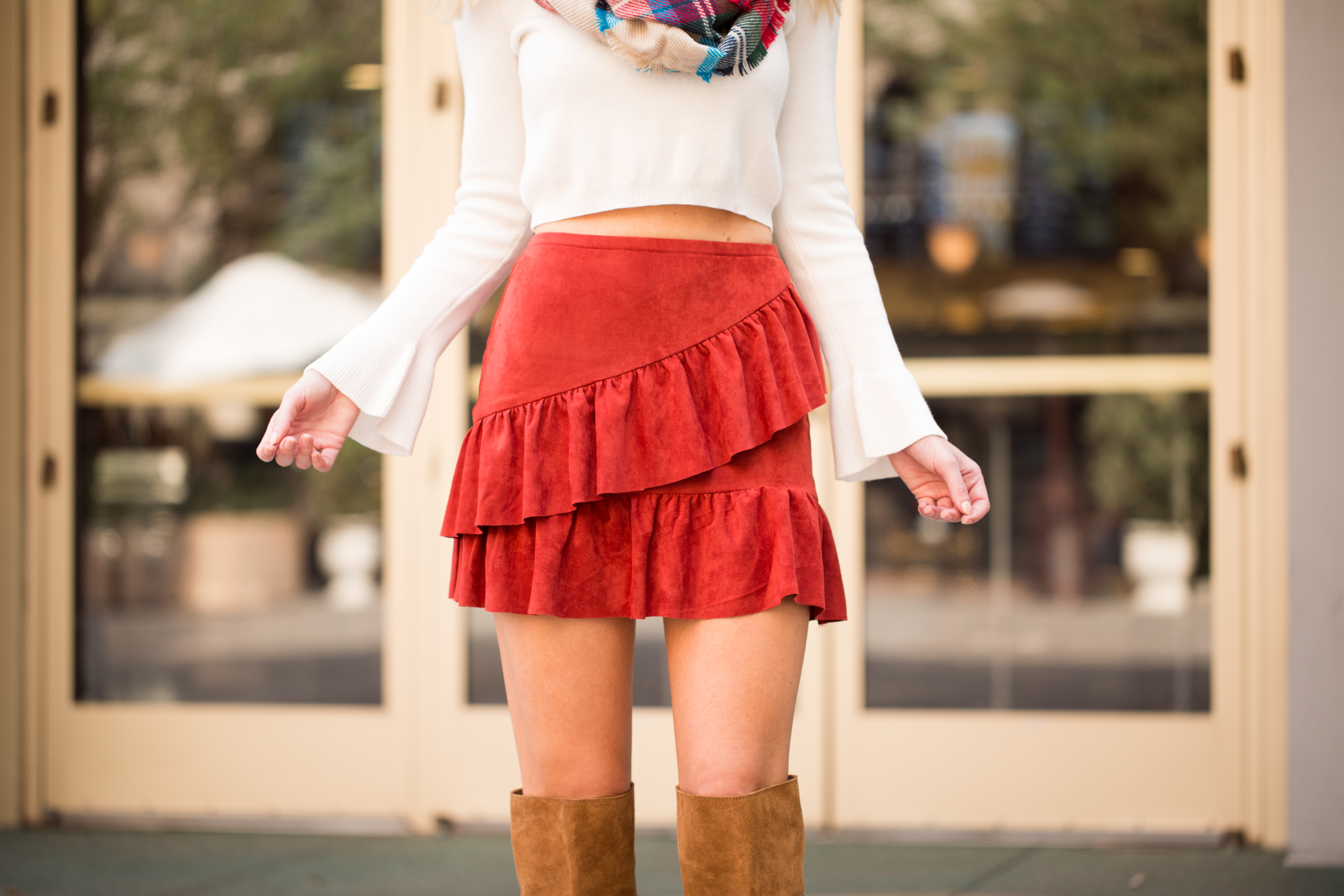 My Favorite Fall Look for a Steal
I saw this faux suede, ruffle mini-skirt and fell in love! The skirt is only $39 and I love the dark red color. The fit is very flattering at the waist and gives off a feminine vibe. The skirt is absolutely appropriate for the office with a longer sweater. However, I chose to make my look a little playful with this cropped, long-sleeve sweater from WYLDR. The sweater is $55 but does run a little small. I'm wearing the extra small but I wish I'd gotten the size small.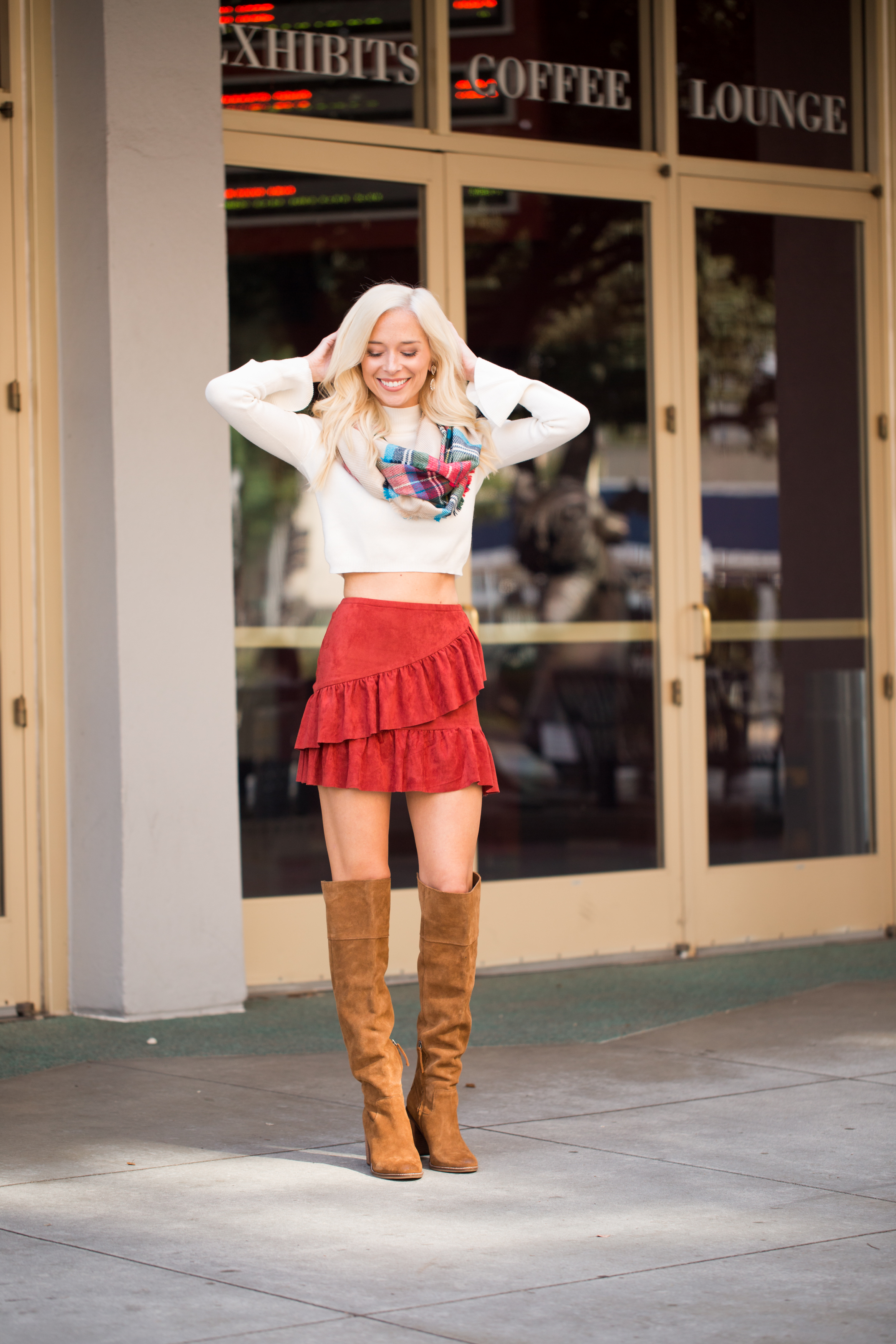 To top off my favorite look I added this multi-colored infinity scarf from Nordstrom. The scarf is $24 and it's infinity shape is easy to style. Blanket scarves are great but they are so long it takes me a while to style them just right – not ideal for when you're rushing to leave your house on time!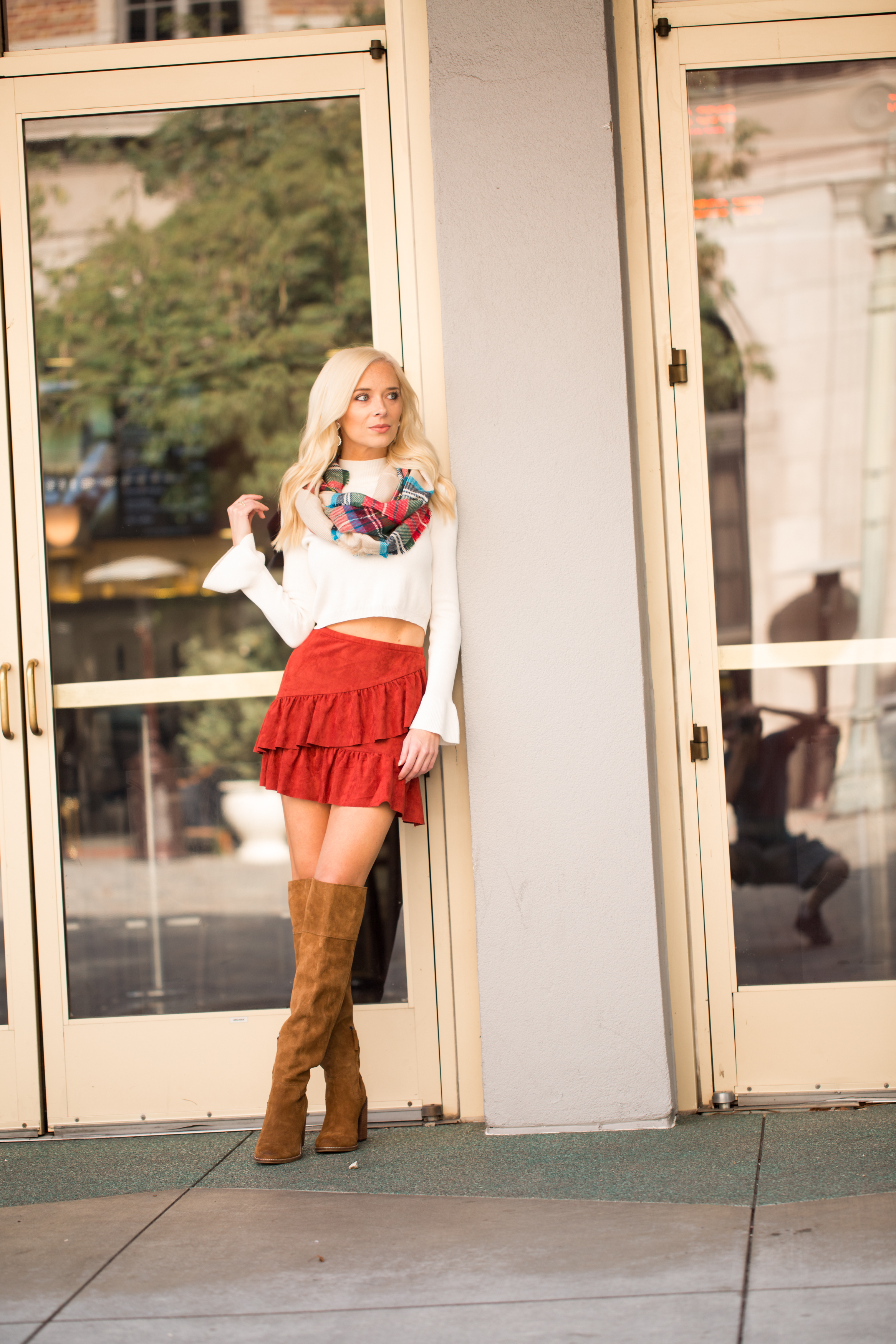 Click on the links above to shop or any image below. Hope your weeks off to a good start loves!